Workers should have the right to retire at 65
Speaking to journalists at Leinster House this week Louise O'Reilly said workers should have the right to retire on their full pension at…
Welcome to The Weekly Digest from Sinn Féin where we bring you a flavour of the work and campaigns that we have been involved in during the course of the week.
Please note, there will be no Weekly Digest for the month of August. We will return in September. The Sunday Read and other stand-alone notices from the party will continue throughout this period.
The Weekly Digest
2022 National Draw tickets on sale now
It's that time of the year again. Tickets for Sinn Féin's National Draw 2022 are on sale now.
Once again this year there will be four draws with a €5000 cash prize up for grabs in each draw.
A €10 ticket gets you into all four draws with the first one taking place on Saturday 26th of November and the subsequent draws taking place on 3rd of December, 10th of December and 18th of December.
Get your tickets for all four draws today:
Rising costs mean many businesses are struggling to keep the doors open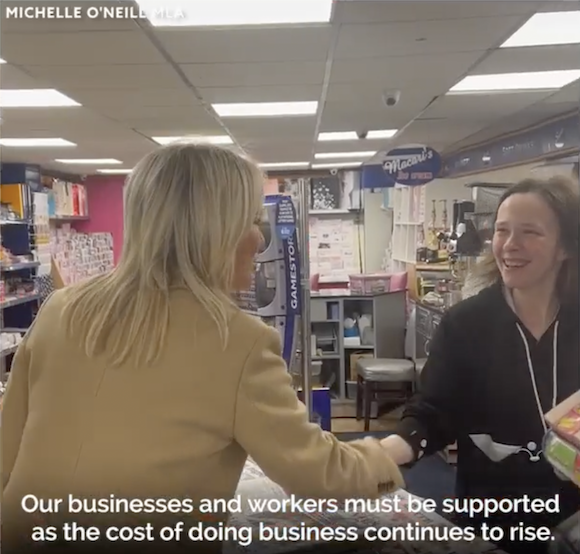 Speaking this week Michelle O'Neill said an executive needs to be formed immediately to support people and businesses through this challenging time. She said increased costs of doing business are placing huge pressure on businesses, workers and families with many businesses struggling to keep doors open.
Watch Michelle here: https://fb.watch/eya3PAPvVa/
Back to School Grant must be extended to middle income families
Sinn Féin wants to extend the Back to School Grant to middle income families. The Government must act now to extend the grant to an additional 500,000 children and help those countless parents who don't currently get support and who are really struggling.
Watch Donnchadh Ó Laoghaire speaking on this issue here: https://fb.watch/eyae_wkSlT/
Workers should have the right to retire at 65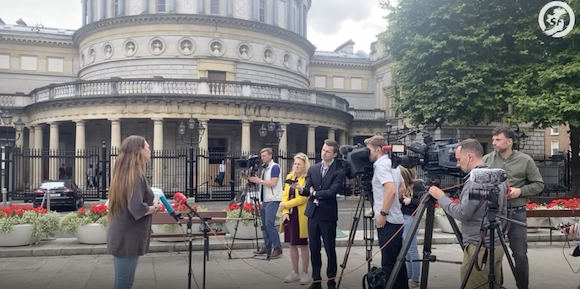 Speaking to journalists at Leinster House this week Louise O'Reilly said workers should have the right to retire on their full pension at 65.
She said Sinn Féin absolutely supports flexibility for workers who wish to continue working beyond the pension age but that should be a choice and on their terms.
Watch Louise here: https://fb.watch/eyanPcUtXo/
National Hunger Strike Commemoration 2022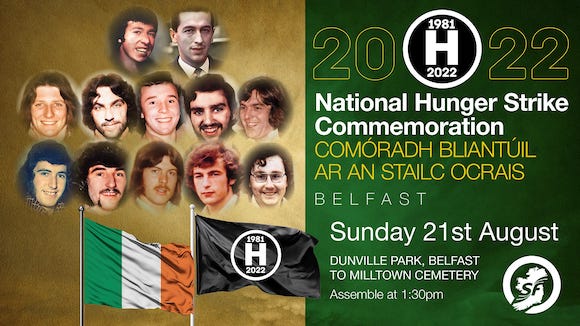 The first National Hunger Strike Commemoration since the Covid 19 Pandemic, will take place on Sunday, August 21st in Belfast.
Assemble at Dunville Park at 1:30pm. The march will leave for the Republican Plot in Milltown Cemetery at 2pm sharp.
Save Moore Street Concert
A special 'Save Moore Street' concert, with artists such as Paddy Casey, Louise and Michelle Mulcahy, Daoirí Ferrell, Rónán Ó Snodaigh from Kila and another very special guest, will take place on 11th of August in Liberty Hall at 8pm sharp.
Tickets are €25 and are available by calling 01-8588217 or by emailing info@siptu.ie
Sinn Féin members are encouraged to support this important fundraiser.
Second 2022 edition of An Phoblacht out now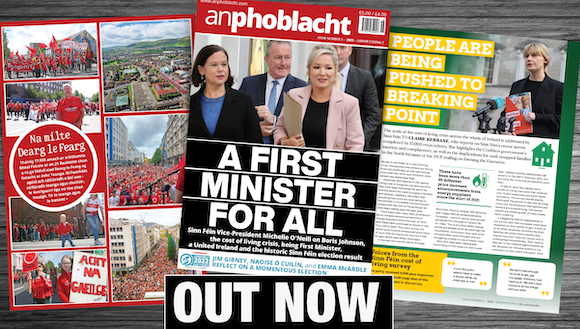 The second issue of An Phoblacht for 2022 is on sale now!
In this issue;
– Editor Robbie Smyth sits down with Sinn Féin Leas Uachtaráin and First Minister Designate Michelle O'Neill MLA to discuss being First Minister, a record breaking election for Sinn Féin, meeting Boris Johnston and more.

– Jim Gibney, Naoise Ó Cuilín and Emma McArdle give a deep analysis into the recent historic Assembly election results.

– Dream Dearg protest in Belfast attracts over 17,000 attendees.

– Claire Kerrane TD writes on the Government's failures to tackle the spiralling Cost of Living crisis

Get your radical news today, order your copy of An Phoblacht here:
Ógra Shinn Féin launch new 25th anniversary range

Ógra Shinn Féin has launched a new 25th anniversary range on bourkesports.com/collections/osf25
They have also released a new special 25th anniversary Jersey which you can view here: https://bourkesports.com/collections/osf25/products/osf25jersey
The password for the site is Ogra1997.