The Weekly Digest from Sinn Féin
Welcome to The Weekly Digest from Sinn Féin where we bring you a flavour of the work and campaigns that we have been involved in over the course of the week.
The Weekly Digest
Just three weeks left to get you National Draw ticket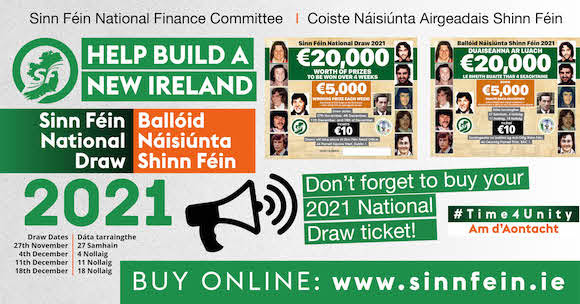 There are just three weeks left till the first of four Sinn Féin Draws this year and your first of four chances to win top prize of €5,000.
A €10 ticket enters you into all four draws with the first one taking place on Saturday 27th of November and the subsequent draws taking place on 4th of December, 11th of December and 18th of December.
So what are you waiting for? Get your ticket today by clicking on the link below.
Your support for this draw is vitally important to us and will help us to win more votes in the next elections, whenever they may be, and to deliver a government for change and Irish Unity.
Support for Irish Unity is flourishing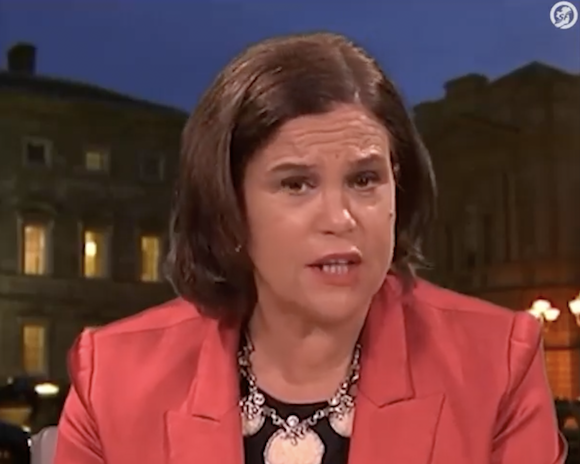 Speaking from Leinster House this week Mary Lou McDonald said, from the Glens of Antrim to the streets of Cork, support for a new, just and united Ireland is flourishing.
She said the message of change is one of huge hope and opportunity for families and workers in communities across the island.
Watch Mary Lou here: https://fb.watch/93sChBhh8u/
Annual Edentubber Martyrs Commemoration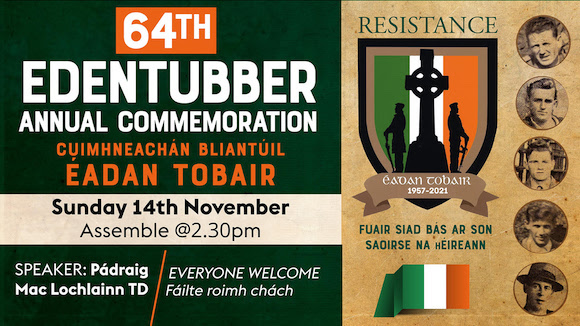 On Monday 11th November 1957, five republicans were killed in an explosion which demolished a small cottage at the foot of Edentubber Mountain in County Louth.
The five were; Volunteers George Keegan, Paul Smith, Oliver Craven, Paddy Parle and republican Michael Watters.
The men became known as the Edentubber Martyrs.
At their funeral in St Patrick's Cemetery, John Joe McGirl, Sinn Féin TD for Sligo/Leitrim, delivered the graveside oration stating:
"The tragedy which brought to a sudden end the lives of five great Irishmen is a tragedy of the Irish nation, the tragedy of an Ireland that is unfree and divided. These men came from the North and the South to join together to end the tragedy of our nation and our people."
This year's commemoration takes place on Sunday 14th November at 2.30pm. The keynote speaker will be Pádraig Mac Lochlainn TD.
Fáilte roimh chách.
Building home for families and workers a top priority for Sinn Féin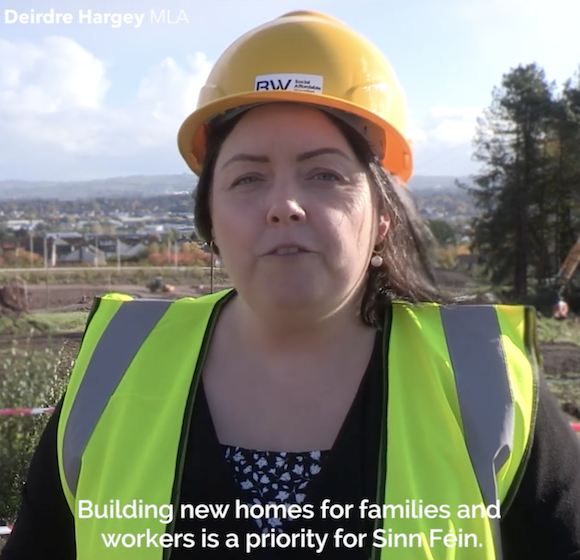 Sinn Féin Minister Deirdre Hargey is driving forward the most radical house building programme in over 50 years with the construction of thousands of new homes ongoing across the North.
Speaking this week Minister Hargey said building new homes for families and workers is a priority for Sinn Féin.
Watch Deirdre here: https://fb.watch/93sSaCJDTD/
Government's Climate Action Plan is high on rhetoric and short on detail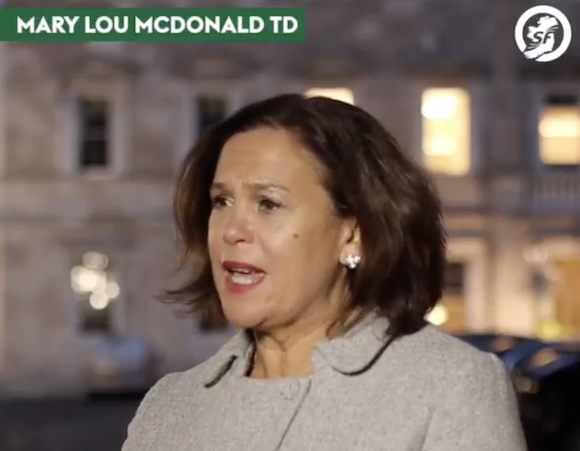 Responding to the publication of the Government's Climate Action Plan this week Mary Lou McDonald said it is high on rhetoric, short on detail and the figures don't add up.
She said the suggestion that people, who are already drowning in debt, are going to be able to retrofit their homes and buy electric cars is simply not realistic.
Watch Mary Lou here: https://fb.watch/94JNyuHnQQ/
Republican Resistance Calendar 2022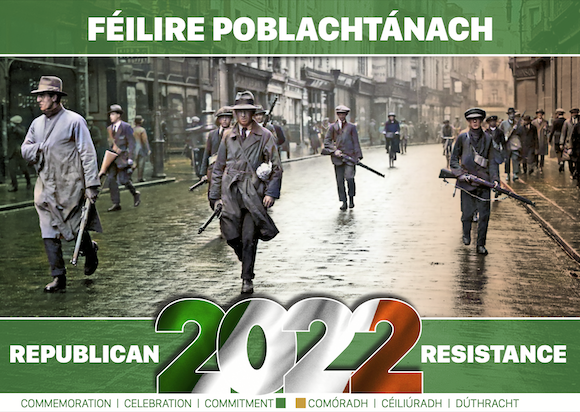 The 2022 Republican Resistance Calendar marks the 50th anniversary of Bloody Sunday in Derry and the Centenary of the Irish Civil War. In the tragic year 1922 the British government's Partition of Ireland was consolidated with the formal establishment of the 'Free State' in the 26 Counties and 'Northern Ireland' in the Six Counties.
Republicans opposed this outworking of the Treaty signed in London the previous December which sharply divided the Dáil and the IRA. British pressure on the Free State led to the attack on the IRA in the Four Courts and the outbreak of the Civil War.

Fifty years later in 1972 the price of the disaster of Partition was paid on the streets of Derry as the occupying British Army murdered Irish civilians at a Civil Rights demonstration against internment without trial.
Purchase your 2022 Republican Resistance Calendar for just €6 here:
Bulk rates available for areas contact: briandowling@sinnfein.ie or 00353 87 2301882
Sinn Féin Dáil motion calls for fair pay allowance for Student Nurses and Midwives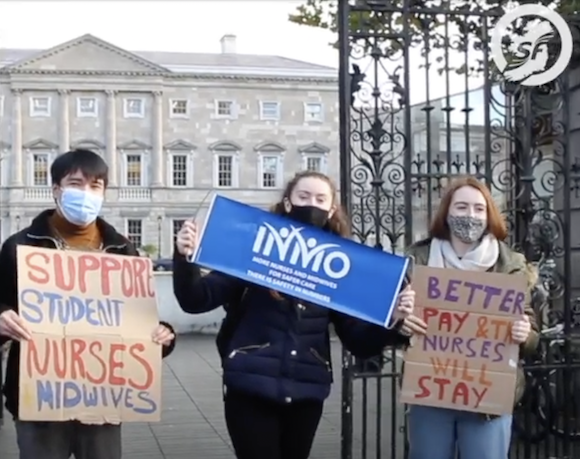 Sinn Féin brought a motion to the Dáil this week which sought a fair pay allowance for student nurses and midwives.
Meanwhile student nurses and midwives held a protest at Leinster House.
Mary Lou McDonald said only for Student nurses and midwives, our health service would have ground to a standstill. Student nurses and midwives perform a very important role in providing high quality care. It is right that they receive a fair pay allowance for this.
Watch Mary Lou here: https://fb.watch/93xPfyrONv/
Carbon Tax will hike energy bills without reducing emissions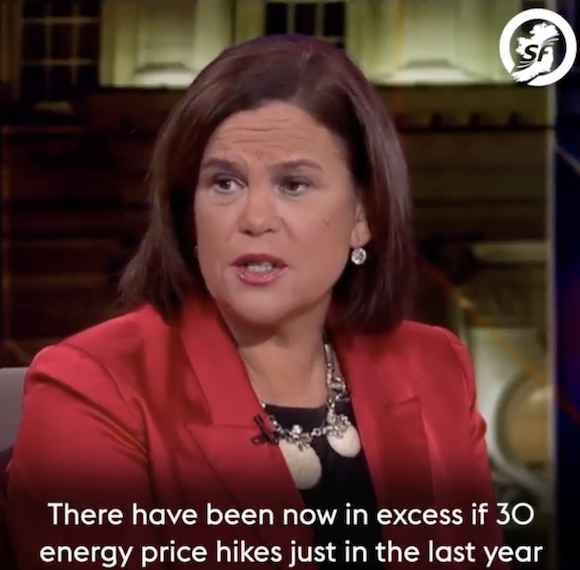 Mary Lou McDonald has said it is an unfair imposition for the State to hike energy bills further via a Carbon Tax. She said such a tax will not change behaviour or reduce emissions but will make bill higher for families and workers.
Watch Mary Lou here:  https://fb.watch/93Br-dWdVo/
Sinn Féin