The Weekly Digest from Sinn Féin

Welcome to The Weekly Digest from Sinn Féin where we bring you a flavour of the work and campaigns we have been involved in over the course of the week.
The Weekly Digest
Irish Unity debate is an incredible opportunity to talk about a new Ireland
Speaking on the Claire Byrne Live debate on Irish Unity on RTÉ this week Mary Lou McDonald said the discussion of Irish Unity is an incredible opportunity to talk about the kind of Ireland we want. To recognise the things that are broken and to plan for a brighter future together.
Watch a short clip from Mary Lou on the show here: https://fb.watch/4tsVCNYU-W/
Meanwhile Sinn Féin MP Mickey Brady has urged the Irish government to step up preparations for Irish unity.
Brady was speaking this week after a meeting of the Implementation of the Good Friday Agreement Committee which received a briefing from Professor Colin Harvey and Marc Bassett on Irish unity and the need to prepare.
Read Mickey's statement here: https://www.sinnfein.ie/contents/60295
Guthanna 81 | Voices of 81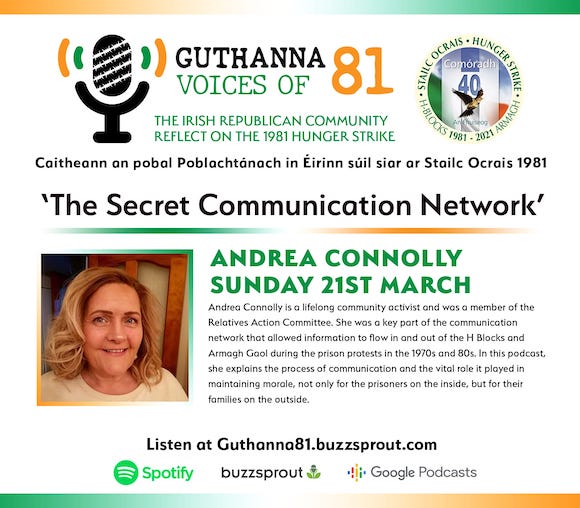 Andrea Connolly is a lifelong community activist and was a member of the Relatives Action Committee.
She was a key part of the communication network that allowed information to flow in and out of the H Blocks and Armagh Gaol during the prison protests in the 1970s and 80s.
In this podcast, she explains the process of communication and the vital role it played in maintaining morale, not only for the prisoners on the inside, but for their families on the outside.
This week's podcast goes live on Sunday at 11am.
Previous podcasts can be accessed through Spotify, Google Podcasts & at Guthanna81.buzzsprout.com
No Profit on Pandemic – Please sign the EU Citizens' Initiative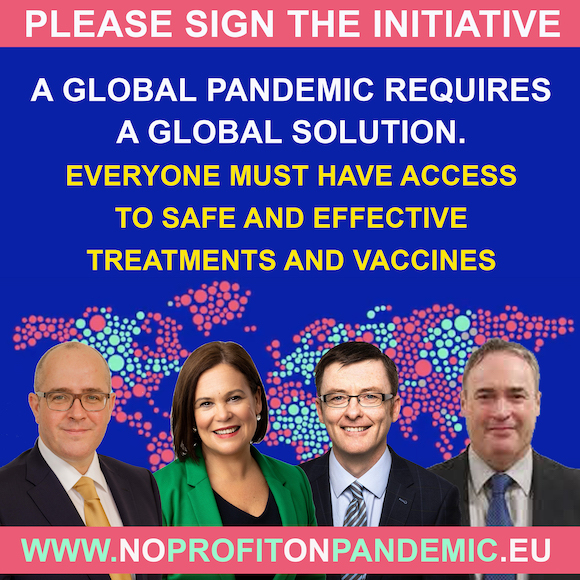 Tackling this global pandemic is a Human Rights Issue.
Patents limit availability of vaccines and increase cost to those who need them. A global pandemic requires a global solution, because no one is safe until everyone is safe.
In Ireland we can make a difference by signing the European Citizens' Initiative at: http://NoProfitOnPandemic.Eu
First 2021 edition of An Phoblacht out now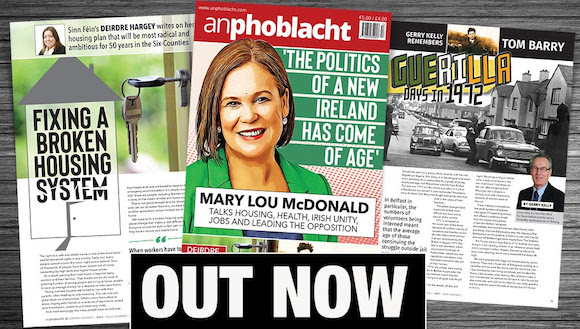 The first edition of the An Phoblacht magazine for 2021 is available to order online now!

In this edition;
– Exclusive interview with Sinn Féin President Mary Lou McDonald
– Gerry Kelly writes about meeting Republican Commander Tom Barry
– Deirdre Hargey sets out the plan to radically transform housing in the North
– Matt Carthy on the establishment's effort to rewrite history
At a time when the conversation about Irish reunification is widespread across Ireland it's important to keep up to date with breaking Republican news from Ireland's most rooted and radical political magazine.
Get your radical news today, order your copy here:
Unanimous support for Sinn Féin Legislation to create Moore Street Historic Quarter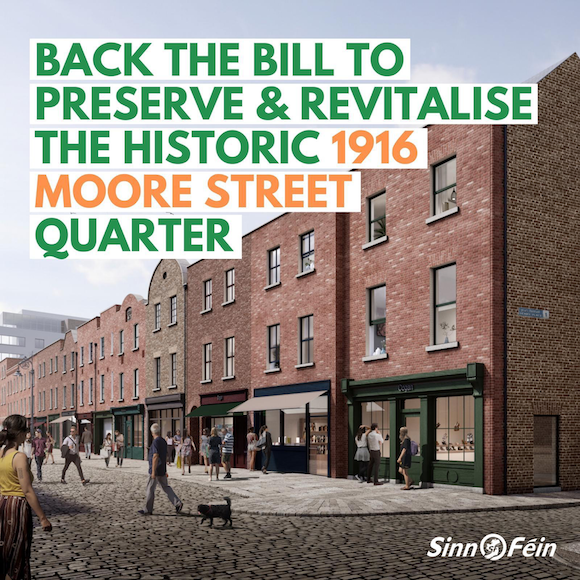 Sinn Féin spokesperson on Arts and Culture Aengus Ó Snodaigh TD has welcomed the unanimous support for his '1916 Culture Quarter Bill 2021′, which has passed through Second Stage debate in the Dáil this week.
Teachta Ó Snodaigh gave particular thanks to those who have been involved in the campaign to Save Moore Street and in helping bring this Bill to fruition.
The Bill will now proceed to Committee Stage after TDs from all parties and none spoke in favour of the Bill, with no objectors.
Online Easter Commemoration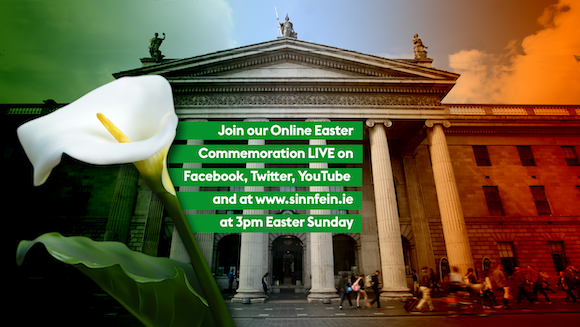 Join our online Easter Commemoration on Facebook, Twitter, Youtube and at www.sinnfein.ie at 3pm on Easter Sunday.
Easter Lilies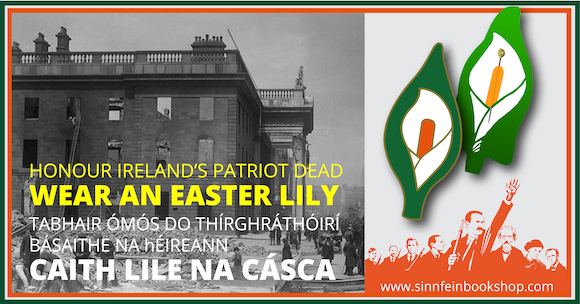 As we approach Easter time again we want to remind members and supporters that you can get your Easter Lilies online at the Sinn Féin Bookshop along with a range of other products such as Easter Lily facemasks, Badges and T-Shirts.
Check out the range here: https://www.sinnfeinbookshop.com/easter-lilies/
Irish Language Act is not up for renegotiation – Sin é!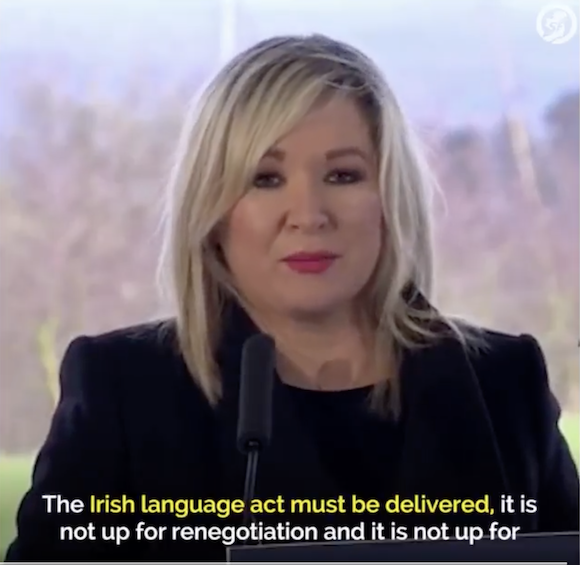 Speaking this week Michelle O'Neill said the Irish Language Act was agreed upon and must now be delivered.
She said this is not up for renegotiation or further discussion. Sin é.
Watch Michelle here: https://fb.watch/4tuuZlkXKC/
Call for independent inquiry into Health Department dossier on children with autism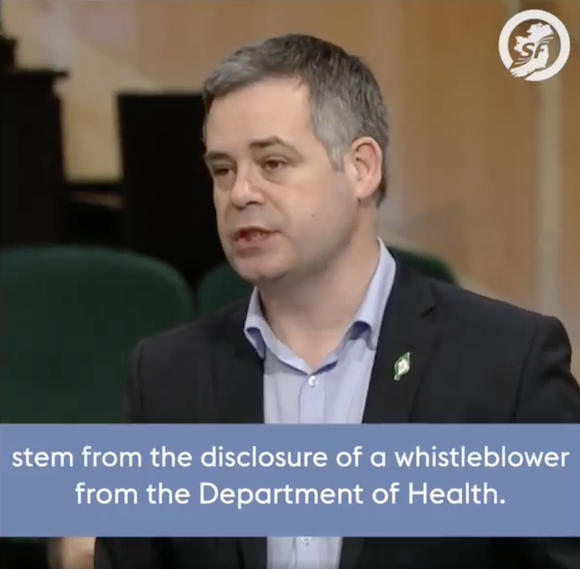 Pearse Doherty has called for an independent inquiry into how the Department of Health built secret dossiers over a decade on children with autism with legal actions against the state.
He said it was absolutely shocking and described the response from former Health Minister and Taoiseach Leo Varadkar as completely inadequate.
Watch Pearse here: https://fb.watch/4tu7Vnycaf/
Bank of Ireland needs to stop shifting blame for branch closures
Speaking at an Oireachtas Committee this week, Sinn Féin Finance spokesperson Pearse Doherty challenged the CEO of Bank of Ireland who said that Customers are to blame for the 103 branch closures.
Doherty reminded the CEO that Bank of Ireland exists because of the sacrifices made by Irish taxpayers and that the bank needs to stop shifting blame.
Watch Pearse here: https://fb.watch/4trrjfwLAR/
Family Carers must be prioritised for vaccination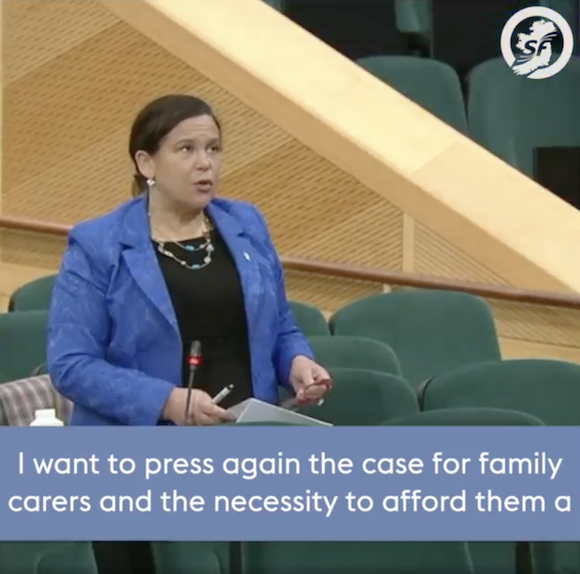 The need for family carers to be prioritised in the vaccine rollout was again raised by Mary Lou McDonald in the Dáil this week.
Unfortunately still no commitment from Government on this matter.
Watch Mary Lou here: https://fb.watch/4trzKmcftK/
Government's half-baked mandatory quarantine plan leaves us vulnerable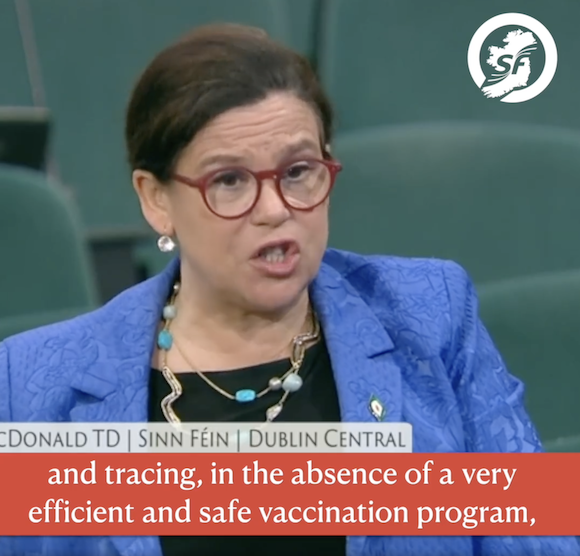 The Governments' half-baked plan on mandatory quarantine leaves us all vulnerable to importation of the virus and to dangerous new variants.
Since last May public health officials have been calling for a mandatory quarantine regime for all international travel but the government refuses to listen.
Watch Mary Lou raise this issue in the Dáil this week: https://fb.watch/4trN4t-XSX/
Every possible step must be taken to stop violence against women and girls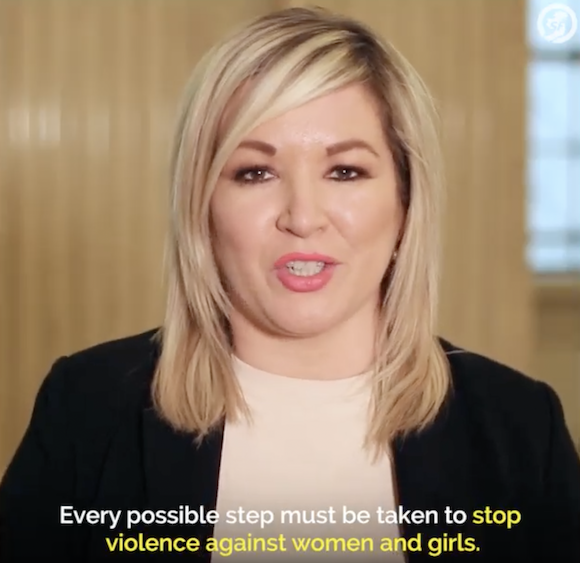 Sinn Féin Deputy Leader and Joint First Minister in the North Michelle O'Neill has said an Executive strategy to protect women and girls from violence is a priority for Sinn Féin.
Watch a short clip from Michelle here: https://fb.watch/4tr-uK-Zge/
Government strips protections from renters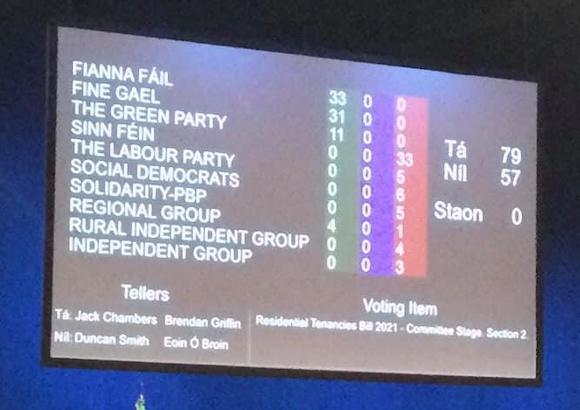 Fianna Fáil, Fine Gael and the Green Party have just voted to strip a large group renters from protection against eviction.
Protections for those in arrears due to Covid19 income loss and who are on a Covid payments will be extended for three months all other renters in arrears are at risk of eviction thanks to the government.