Sinn Féin gotowe do utworzenia zarządu natychmiast. Czy będzie to rząd mniejszościowy?
Welcome to The Weekly Digest from Sinn Féin where we bring you a flavour of the work and campaigns that we have been involved in during the course of the week.
Fáilte go hIris Choimriúcháin na Seachtaine ag Sinn Féin ina gcuirfear ar bhur súil blaiseadh den obair agus de na feachtais a bhfuilimid ag plé leo le linn na seachtaine.
The Weekly Digest / Iris Choimriúcháin na Seachtaine
Sinn Féin ready to form an Executive now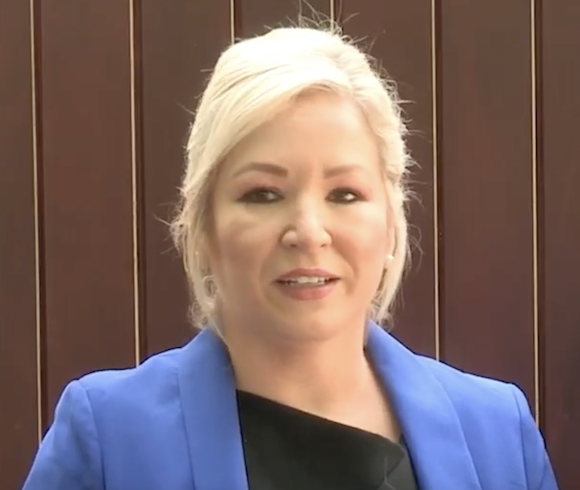 Speaking this week Michelle O'Neill said Sinn Féin is ready to form an Executive now. She said the people have had their say and they want an executive that supports workers and families, tackles the cost of living and invests in our health services.
Watch Michelle here: https://fb.watch/cYzRDsHHpW/
Sinn Féin at the Balmoral Show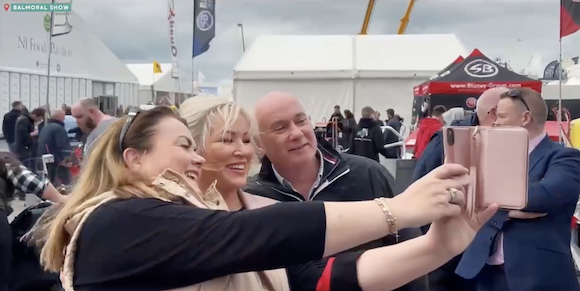 Michelle O'Neill visited the Balmoral show this week and listened to farmers and rural communities who are crying out for an Executive to support them as the cost of living and farming rises.
Watch here: https://fb.watch/cZTRAN_AAk/
Murder of Al Jazeera journalist cannot be swept under the carpet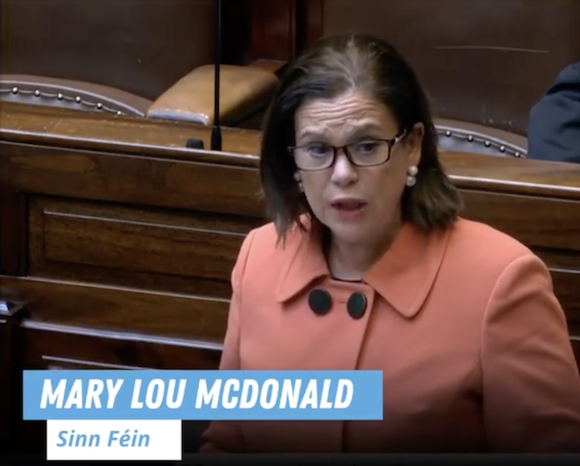 Mary Lou McDonald has said the murder of veteran Al Jazeera journalist Abu Akleh, cannot be swept under the carpet of international indifference.
Speaking in the Dáil this week Mary Lou said it is clear that this attack is part of ongoing attempts by the Israelis to obscure the truth and reality of the Israeli occupation of Palestinian territories.
Watch Mary Lou here: https://fb.watch/cYABRM2wIZ/
Annual Wolfetone Commemoration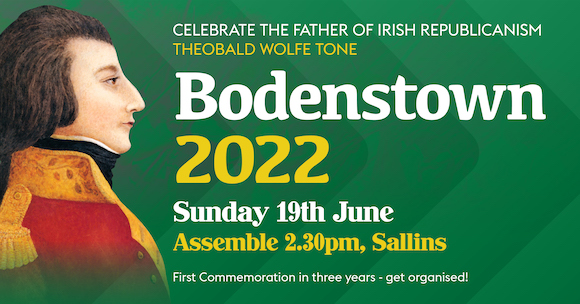 The annual Wolfe Tone Commemoration at Bodenstown will take place on Sunday 19th of June, assembling at 2:30pm in Sallins.
This is the first time in three years that republicans have been able to gather to remember the founding father of Irish Republicanism and all areas are asked to begin making plans to mobilise for this year's commemoration.
Sinn Féin motion to increase delivery of affordable homes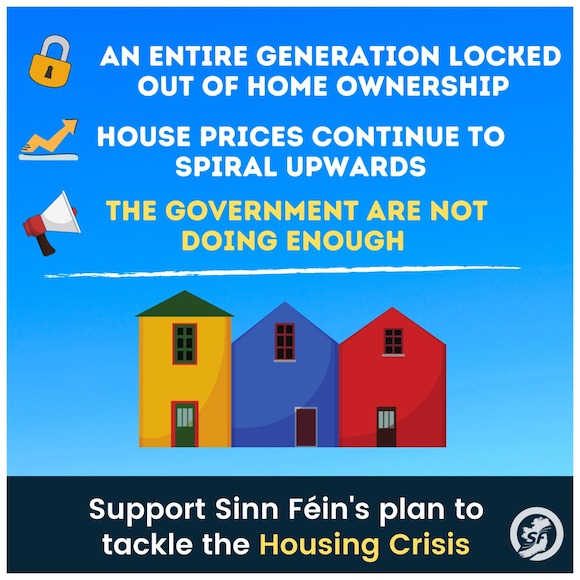 Far too many people on ordinary incomes are locked out of home ownership. The Government is out of touch and isn't grasping the extent or urgency of this crisis.
Sinn Féin this week brought forward a motion in the Dáil to call on the government to dramatically increase the delivery of genuinely affordable homes for people to buy.
Watch a section of the debate here: https://fb.watch/cYASrN29FS/
Doherty queries Government's 'hare-brained idea' to gift taxpayers' money to developers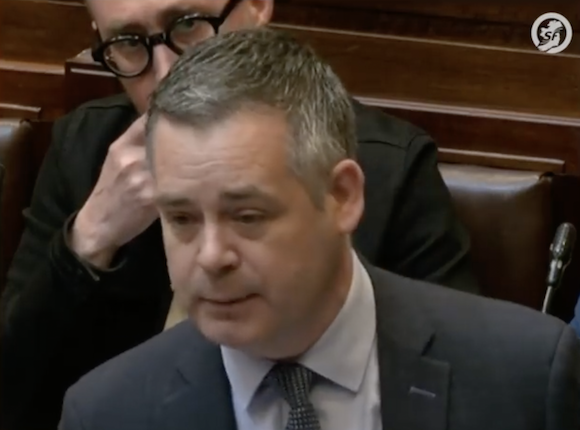 Pearse Doherty has asked how the Government can stand over a hare-brained idea of giving away €144,000 of taxpayers money to developers to build apartments, and then ask ordinary families to fork-out €500,000 to €600,000 for those same apartments.
Watch Pearse speaking in the Dáil this week: https://fb.watch/cZTGmi0pvE/
Call for forum to tackle cost of renewables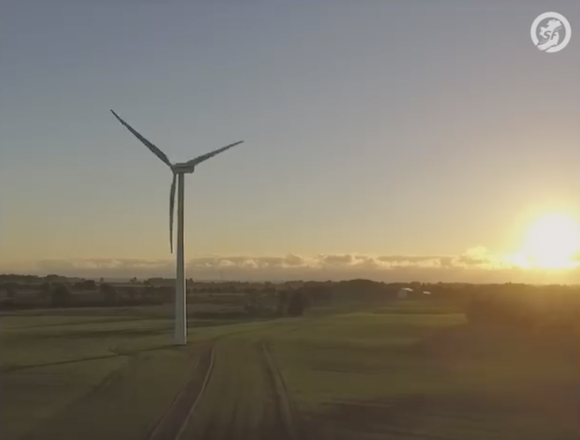 Sinn Féin's Darren O'Rourke and Lynn Boylan have called on Environment Minister Eamon Ryan to set up an interdepartmental stakeholder forum to tackle the cost of renewables, saying Ireland has the highest renewable costs in the EU.
Watch here: https://fb.watch/cZU0k1E0VX/
Government refuses to support Sinn Féin legislation on rip-off interest rates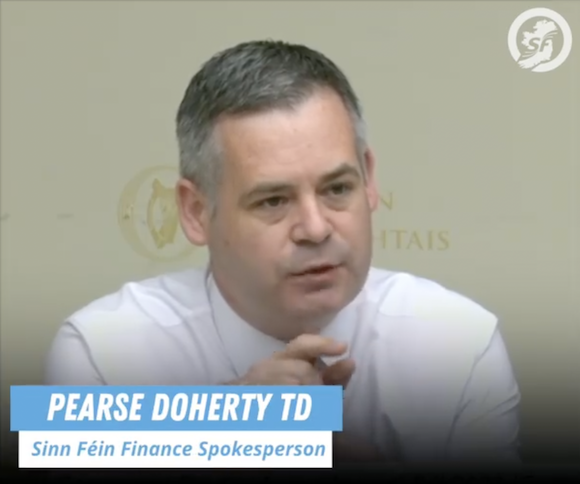 Sinn Féin Finance spokesperson Pearse Doherty criticised Minister Seán Fleming at Committee this week as he refused to support Sinn Féin's Consumer Credit Bill to prevent people from being ripped off by unscrupulous moneylenders.
Watch Pearse here: https://fb.watch/cYC2xtiPTG/
Legitimate concerns raised about National Maternity Hospital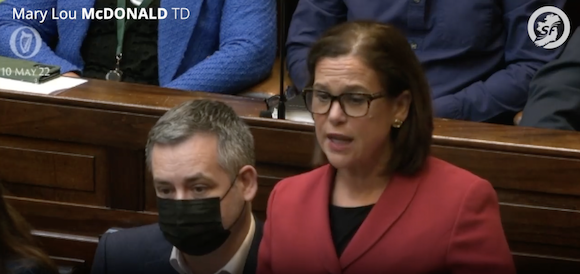 Speaking in the Dáil this week Mary Lou McDonald said Government after Government colluded with religious dogma to deny us as women access to healthcare that we were entitled to. So when people raise questions about the National Maternity Hospital it is out of legitimate concern & a determination that that will never happen again.
Watch Mary Lou here: https://fb.watch/cYBjIjjAqz/
Ógra Shinn Féin launch new 25th anniversary range

Ógra Shinn Féin has launched a new 25th anniversary range on bourkesports.com/collections/osf25

They have also released a new special 25th anniversary Jersey which you can view here: https://bourkesports.com/collections/osf25/products/osf25jersey
The password for the site is Ogra1997
Éire Nua out now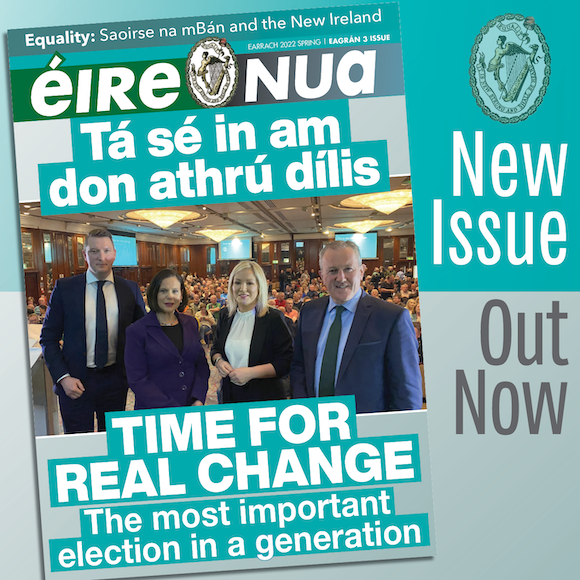 The latest edition of Éire Nua is out now.
Writing in this edition commentator and former editor of the Impartial Reporter Denzil McDaniel says many Unionists are 'thinking the unthinkable' about constitutional change, Declan Kearney discusses disability rights in a New Ireland, David Cullinane writes about building a National Health Service, Emma McArdle writes about Saoirse na mBan and the New Ireland and Editor of Máire Comerford's Revolutionary Memoir 'On Dangerous Ground' gives us a History Lesson in Female Principle.
And there's much more.
You can read it here: https://issuu.com/anphoblacht/docs/eire-nua-issue_3_upload
Éire Nua amuigh anois
Tá an t-eagrán is déanaí de Éire Nua amuigh anois.
Ag scríobh san eagrán seo deir tráchtaire agus iar-eagarthóir an Impartial Reporter Denzil McDaniel go bhfuil go leor Aontachtóirí 'ag smaoineamh ar an rud doshamhlaithe' faoi athrú bunreachtúil, pléann Declan Kearney cearta daoine atá faoi mhíchumas in Éirinn Nua, scríobhann David Cullinane faoi Sheirbhíse Sláinte Náisiúnta a fhorbairt, scríobhann Emma McArdle faoi Shaoirse na mBan agus tugann Eagarthóir New Ireland agus Eagarthóir an tsaothair chuimhneacháin 'On Dangerous Ground' le Máire Comerford Ceacht Staire ar Phrionsabal na mBan.
Agus go leor eile.
Léigh anseo é: https://issuu.com/anphoblacht/docs/eire-nua-issue_3_upload
An Phoblacht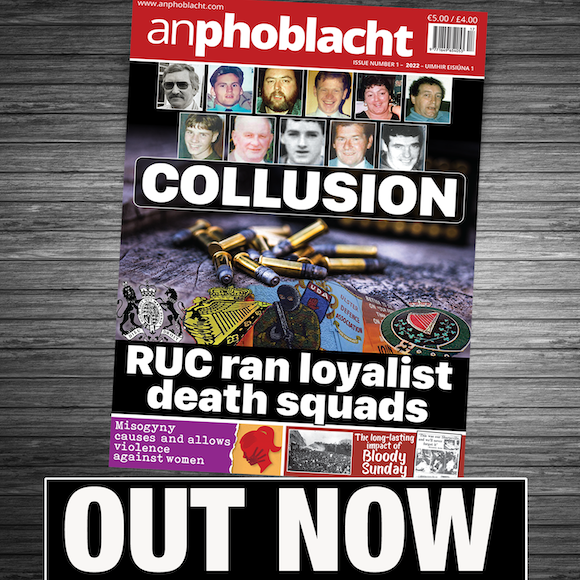 The first 2022 edition of An Phoblacht Magazine is available to purchase now.
Get your radical news here: www.sinnfein.ie/anphoblacht
An Phoblacht
Tá an chéad eagrán de An Phoblacht 2022 ar fáil le ceannach anois.
Faigh an nuacht radacach anseo: www.sinnfein.ie/anphoblacht